Spirit of Extraordinary
Amphibious camper-trikes for the wild and free
Be Bold ... Be Amphibious ... BeTRITON
BeTriton is a fully electric amphibious RV designed for the most sustainable and unique outdoor experiences. It's a machine that creates smiles and lifelong memories, perfect for families, couples, adventurers, and the general outdoors-focused crowd. BeTriton combines three functions: accommodation for two, boating, and cycling. It represents a revolution in sustainable travel. Immerse yourself and experience the outdoors in a new and exciting way—travel and sleep anywhere your heart desires.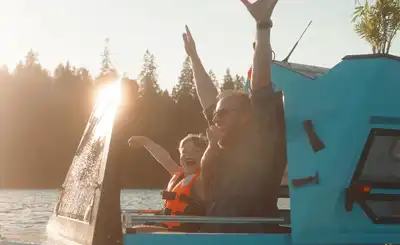 for family adventures
Take your son or daughter on a unique adventure and bond in the most memorable way. Explore and engage with nature continuously over land and water. Go on treasure hunts, and discover untouched nature – remote islands. Park and sleep anywhere you like with a comfort of a well-built micro camper. Create memories that will last a lifetime.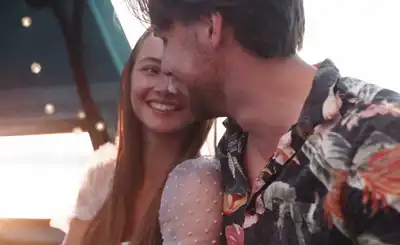 for romantic getaways
Go on a date like no other. Travel together into a quiet and calming nature. Enjoy solitude and peaceful nature regardless of the weather. Set up an open fire to cook or cook inside BeTriton. Watch a movie in the middle of a lake or read your favourite books together. Watch sunset and sunrise from an amphibious camper. Be immersed in nature and bond with your partner in the most special way.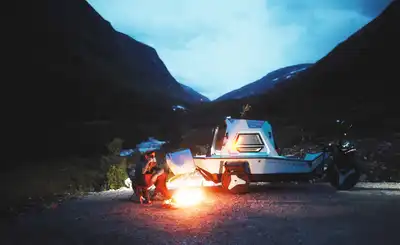 for nature explorations & travel
BeTriton is your ultimate vehicle to get to nature and immerse yourself in the wilderness. Witness the magic of the most beautiful places on this planet in a completely new way. This amphibious hideout will carry you around over land and water and will provide a well-sheltered tiny home almost anywhere on this planet. Discover places regionally and put BeTriton on a trailer to get to faraway places. There is so much to see and discover in this unique way.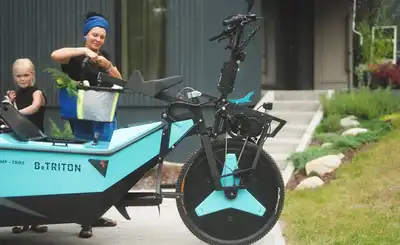 for everyday mobility
Take your children to kindergarten or school in the most adventurous and fun way. BeTriton is a cargo bike too. Pick up your shopping and use BeTrion as a bridge to get to places in the shortest possible way – across rivers, lakes and canals – it's your personal electric ferry. BeTriton is the most exciting commute to work too – amphibious and fully electric.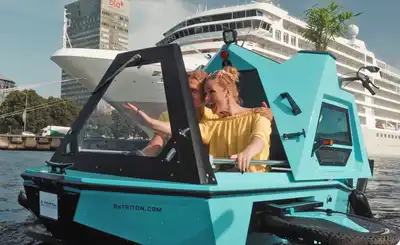 for city tours & sightseeing
Discover cities and places of interest in a completely new and unique way. Most cities have incredibly beautiful waterways and the best way to appreciate these waterfronts with their landmark architecture is from the water. BeTriton is perfect for doing both – land and water. Plug in your earphones for guided tours and enjoy. Rentals will be available in many cities across the globe in near future.
eBoat + eTrike + eCamper = BeTRITON
BeTriton is a fully electric Recreational Vehicle and combines three functions – a hard-top motor boat, cargo tricycle and tiny camper that sleeps two people. This is a completely new 3 in 1 concept providing the most continuous and immersive outdoor travel experience.

e-Boat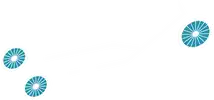 e-Trike

e-Camper
BeTRITON VERSIONS
Embrace the spirit of extraordinary
Be a pioneer and get in the queue for a journey that will create a very special set of emotions and memories!
Pre-order